Over the last couple months Storm Procurement has been very busy attending multiple exhibitions across the globe, meeting with other industry specialists, learning about the latest trends, as well as meeting with clients to discuss enhancing their business operations.
Between August 28th and 29th our Liaison Manager, Zinabu Laminu attended the Gold Fields Conference and this year's theme covered ESG culture change- An imperative to building a resilient supply chain through partnership.
The resilience of a strong supply chain has taken 'centre stage' and the ability to navigate through unforeseen circumstances including natural disasters, geopolitical shifts, or economic downturns, all while maintaining operations and customers satisfaction is crucial. Which is why Goldfields main message throughout the event is encouraging both suppliers and vendors to build strong partnerships, that can withstand the global supply chain climate.
There were a few different speakers who covered a range of topics, including 'contract management process', 'the vendor payment process', 'changes the supply chain faces due to the impact of Covid-19' and 'supply chain management and compliance requirements'. These talks were extremely interesting, providing an insight on both the importance of a resilient supply chain and how it is no longer seen as a luxury but instead a necessity, to build a sustainable supply chain.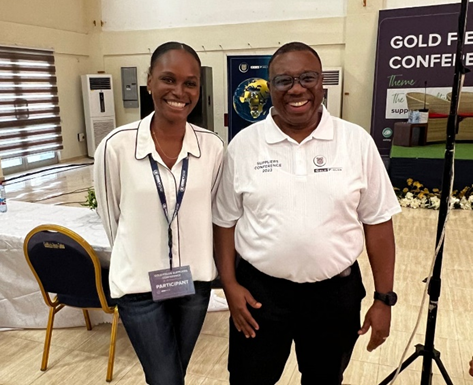 Between the 6th and 8th of September our Managing Director Paul Alexander and SA General Manager Warren Kearns attended Africa Down Under (ADU). The ADU is the largest African-focused mining event attracting high-profile participants every year. This was a fantastic opportunity for Storm to attend, to expand our network and learn of upcoming industry news. There were lots of different talks, covering a wide range of topics. Including 'Health, safety and security within the mining industry', Renewable Energy in Mining, 'Power of Partnership', 'The Future of African Development' plus much more.
When Storm has the chance to travel and meet with our clients, we see it as a great way to build relationships, meet in person and have a good catch up, many people whom we haven't seen since before the pandemic. Whilst we were out there, we met up with one of our local- in country partners and it was great to see them in person, check out the photo below.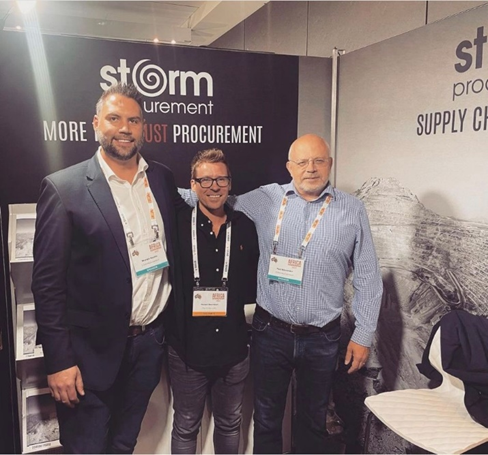 We produced Storm brochures specifically for the event, with a fresh redesign to demonstrate how our brand is evolving and the range of services we can offer our clients, providing solutions to keep their operations running smoothly. We also designed Storm branded water bottles, Storm pens, and jellybeans ready for the event, which went down a treat. We hope to return next year and see our valued clients again.
Storm's Liaison Manager, Zinabu Laminu also attended the Oil and Gas Conference in Ghana from 19th of September to 20th of September. On the first day there were two different sessions, the first one covered the Upstream Oil and Gas Industry status with five different panellists, covering a variety of topics, including: partnerships, the Ghana National Petroleum commission, the transition from heavy fuel to clean gas and how the Ghanaian government plan to further develop the industry. The second session covered 'The Emerging Oil and Gas Landscape Post Covid, both prospects and opportunities'.
The following day there were another two sessions, 'Oil and Gas Success Stories' and 'Financing Options in the Oil and Gas industry'. This event was a great chance to network, expand our connections, and attend talks, where the speakers were covering important industry topics.
Storm's Head of New Business, Slim Loghmari and Stom Kazakhstan team attended the Mining and Metals Central Exhibition from the 20th of September to the 22nd. 'It was a fantastic opportunity to showcase products and services, connect with potential customers, and increase brand visibility.
The exhibition was also an excellent opportunity for networking and interacting with other businesses, potential partners, and industry experts. Storm demonstrated our diversity as an international global buying house as well as our local presence that allows our customers access to several services, such our vending machine as well as a host of other products.
This trip also allowed me to experience some amazing local food such Plov, Buarsak (fried dough) and Kazakh Shashlik. I also seized the opportunity to enhance my local language skills, given that English is not widely spoken in the region.
We hope to attend the Mining and Metals event again next year to cement our presence in Kazakhstan and the Eurasian regions.'
We hope you enjoyed reading this week's blog, it's different to our usual posts but we think it's a great way to keep our audience up to date with what we've been up to in the last couple of months. If you enjoyed it, feel free to share with others. Thank you for reading and make sure you are subscribed so you get alerts every time we post!