Another year has drawn to a close, but before we kick into 2023 with full swing, we look over our company achievements as well as personal triumphs.
Here at Storm, we are delighted to report that we have had an immensely successful 2022. With demand and sales growing year on year, it's no surprise our teams have been growing as well.
With the addition of 4 new sales team members, Storm now has the capability to process more quotes and orders, resulting in an increased turnover of 35%. This increase is a true reflection on the hard work and dedication our team members have been putting in over the year; with all teams reaching and smashing their targets.
We would like to take a moment to thank our team, as what we accomplish here at Storm is all thanks to them. As a reflection of this we have had several promotions throughout the year:
Sam Corrie – Sales Manager
Irinel Mateescu – Senior Buyer
Monique Potgieter – Senior Buyer
Cheryl Muller – South Africa Team Leader
Amelia Inskipp – Marketing Assistant
We were also delighted to promote Shaun Kimpton and Emily Griffin to Directors. Shaun becoming Sales Director and Emily becoming Finance Director.
Shaun also celebrated being with Storm for 10 years in 2022, Shaun is a crucial member of our team and has played a key role in developing Storm and making it the company it is today. We would like to take this opportunity to thank him for his dedication and hard work over the past ten years.
Due to our increase workload it's no surprise we needed some extra help. We have welcomed 10 new members across our UK and SA offices. We have welcomed Niraj Gami, Jasper Durrant, Siobhan Gunther, and Karim Doukir into our sales teams. On the operations side of Storm, Jamie West joined our warehouse team to help with the rise in orders we are now shipping. Aila McVeigh and Steffanie Traetto, have joined as Operations Coordinators. Our accounts team has also had a new addition, Samad Naeem. We have also introduced a new role, Sourcing Specialist, which has been filled by the very capable Sam Davies.
We are always on the lookout for the best talent, with new colleagues already set to join us in 2023. If you would like to be a part of this exciting and growing team, see our job posting here.
2022 has been an amazing year for international business. With the world now back to semi-normality our team has been able to travel globally to visit our clients as well as prospective ones. Our Business Development Manager visited Mauritania to meet future clients and discuss our products and services as well as the potential for new partnership contracts. We have also been to numerous exhibitions this year, showcasing our talent and meeting new business ventures. In December, we also had a visit from one of our partners in Australia, which was a great way to round the year off. We already have exciting plans put in place for 2023 travel, with some of our team visit Ghana in January and Australia later in the year.
Towards the end of last year, our South Africa office had a much-needed lick of paint with our office spaces going under development. With a new, bright, and modern office, we now have the capabilities to expand our South Africa office, whilst also giving our current staff the much-needed space they deserve. Check some of the photos of our new office below.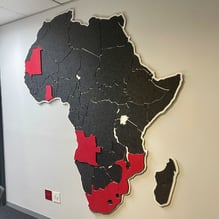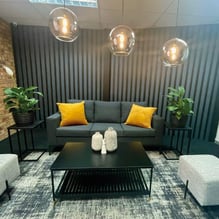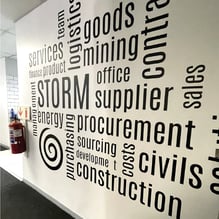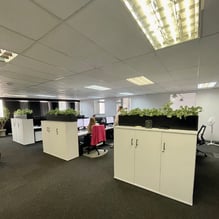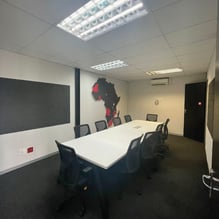 To end our outstanding year, Storm Procurement held a mini awards ceremony to celebrate some of the standout achievements of the year.
We would like to congratulate the following people:
Paul Gaynor received the award for highest Account Manager sales. Paul has been at Storm for 13 years and is an integral part of Storm Procurement. Year after year he surpasses his targets and is an example to the team of hard work, proven through his sales this year.
All our teams have smashed their goals by working incredibly hard this year which we are extremely proud of. However, one team have excelled in expectations and smashed their targets, so our award for highest team sales goes to our UK Mining team.
We have also recognised top performers within our teams. Irinel Mateescu received our top performer for our Energy Team, Bradley Mitchell was recognised for his efforts in our UK Mining team and Monique Potgieter was awarded for her diligence in our SA Mining team. Garth Willemse was also awarded the highest profit on a single sale.
We also acknowledged a couple of other individuals for their efforts outside of sales.
Douglas Pacey received our recognition award for going above and beyond. Doug is the staple of Storm Procurement. He works tirelessly in the warehouse to ensure orders are delivered on time and safely for our clients. For over 12 years, Doug has excelled in what he does, never complaining and always a helping hand no matter his workload. Doug is an extremely valued member of our team, and each and every colleague is enormously thankful for the work Doug contributes to our UK warehouse.
Our final award was presented to Warren Kearns for Outstanding Achievement. Warren is our General Manager in South Africa and has built up our South Africa office from nothing, which is now equipped with some of the best people. He has helped to establish Storm as one of the key leaders in our industry, and especially ascertain us as one of the top procurement companies in the African region. Warren is a highly respected member of our team, by both SA and UK offices. His determination to help grow and expand Storm to where we are today and continued efforts to help push us further is why he is a wholly deserved winner of our outstanding achievement award.
Again, we would like to thank everyone who has contributed to our 2022 being so successful! We look forward to the next year to see what else we can achieve.