With the energy industry transforming daily with new innovative technologies and a shift towards sustainable approaches, our Energy department has been busy keeping up with the latest trends by travelling to energy networking events.
Update: Our Energy Team
In April, our International Business Development Manager, Daniel Alvarado, and Senior Buyer, Irinel Mateescu, attended the Energy Transition Event in Norwich, hosted by the East of England Energy Group (EEEGR) along with The North Sea Transition Authority. The NSTA is responsible for maximising the economic recovery of oil from the North Sea, whilst also taking steps to reduce greenhouse gas emissions from sources such as flaring, venting and power generation.
This event centred around the transition projects in renewable energy such as solar, biomass, hydrogen and offshore wind and the possible benefits this can bring to the energy supply chain.
Daniel and Irinel heard from many major energy players such as BP and Petrofac, which they discovered about their current energy projects as well as updates on energy supply chains and partnerships within their companies. There were also talks from Neptune Energy where the head of energy projects spoke about the future developments in hydro and wind power.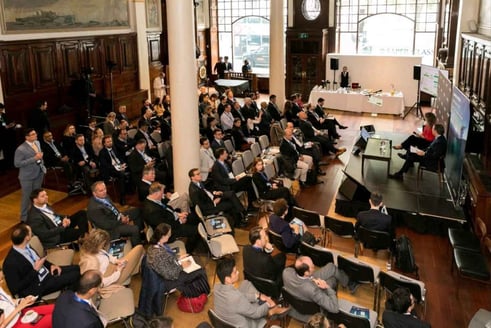 Two of our other Energy buyers have also been busy as both Gustavo Belucci De Araujo and Igor Bacich went to London to attend the Going Green Energy Conference last week. This event was hosted by the Brazilian embassy to attract new investors, where talks were about the future of the oil and gas industry in Brazil.
One of the key talking points for this event was the Brazilian Government setting out a 10-year plan for Brazil to be one of the top five biggest producers of energy, they currently stand at eighth. This will be done through a large emphasis on finding greener solutions to providing energy through renewable sources, most of this wind energy, and the need for more wind farms within Brazil. Furthermore, Industry giants such as the largest oil company in Brazil, Petrobras, were also speaking about their plans to find better methods to make the oil and gas sector greener.
Gustavo and Igor also had personal talks with the Brazilian secretary of petroleum, natural gas and biofuels ministry of mines and energy about the future of the energy industry and the future of Storm Procurement's movements in the energy sector.
Along with the Going Green: The Future of the Oil & Gas Sector in Brazil event, Gustavo and Igor have also had exciting meetings, speaking to major traders in Brazil, looking to understand the work Storm Procurement does and open our doors to Brazilian trade.
Get in touch with our energy team today to either learn more about the conferences or to place an order!