Logistics and order fulfilment are crucial components of supply chain management, which is the effective transportation of goods across the world.
There are several different strategies when selecting the best form of logistics for you. The most common models are third-party logistics (3PL) and fourth-party logistics (4PL). Although only a number differentiates their names, these two solutions are significantly different and can have two polarising effects on your business.
In this post, we will be discussing the different types of logistic models to familiarise yourself with and understand how some more than others will be beneficial to your operations.
There are five main types of logistic providers.
1PL – First Party Logistics
First-party logistics refers to a business (or individual) that handles their logistics internally, so are responsible for their own transportation, shipping, and storage of their goods. Only one company is involved in the whole process. Although it appears as an efficient way to undertake logistics, this is one of the most uncommon methods due to the amount of time involved, and specialist knowledge in the field of logistics you would need.
An example of 1PL is a farm using its own vehicles to send its products to local markets.
2PL – Second Party Logistics
Second-party logistics is a business which owns resources such as HGVs or shipping containers and uses them to transport goods for other companies. A manufacturer will pass on their products to a 2PL provider who would then take over all transportation tasks on behalf of the manufacturers. An advantage of using 2PL is that there is no requirement for a company to own any transport vehicles. Also, as the manufacturer, you have full control of who you choose to administer the management of your transport logistics.
2PL companies include shipping airlines and haulage companies or companies with warehouse and storage facilities.

3PL – Third Party Logistics
Third-party logistics is probably one of the most used forms of logistical management. 3PL is where a company manages all, or some aspects of a company's logistics operations, acting as the middleman between 1PL and 2PL.
A 3PL can assist companies at any stage of their supply chain whether this is warehousing, freight forwarding, customs procedures or inventory management.
3PLs are used by many companies as it cuts out the hassle and expense that occurs when managing these types of processes, yourself. 3PL providers can be asset or non-asset based, but the main advantage of using a 3PL will be its established relationships with companies such as airlines and hauliers. Establishing a relationship with a 3PL provider means they can offer you competitive pricing, whilst also making it easier to secure container space during peak shipping periods.
An advantage of using 3PL is that they take out the added expense of running your warehouse, operating your vehicles, and paying a dedicated logistics team. They allow your business time and resources to focus on other business-related matters such as sales and business development.
Examples of 3PL providers are freight forwarders and courier companies.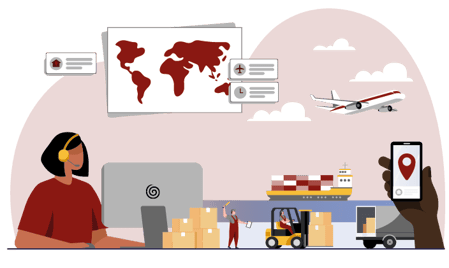 4PL – Fourth Party Logistics
A fourth-party logistics provider is the single point of contact for entire supply chains. Their role is to optimise the supply chain rather than manage the day-to-day operations which is what 3PLs do. 4PLs are similar to 3PLs, but they have more of a considered role rather than practical when aiming to meet a client's business goals.
4PL providers are also known as LLPs (lead logistics providers) as they are often used as consultancy for many supply chains. Many 4PL providers are contracted by 3PL providers as they can use their high level of visibility, real-time information, and broad understanding to align customers and logistic providers.
4PLs take care of every aspect of supply chain companies including warehousing, freight forwarders, customs etc. They also analyse vast amounts of data as well as manage third-party suppliers. Everything that starts from getting the goods from manufacturer to end user, will be administered by your 4PL, helping to optimise efficiency.
An advantage of 4PL is that they have increased efficiency in many areas of business. 4PL providers are impartial. They act in the best interest of customers by comparing services and costs with their own, ensuring customers are getting the best levels of service for the best price.
The 4PL provider also delivers a single invoice solution as well as streamlining logistical processes like no other.
Storm Procurement maintains regular face-to-face interaction with buying teams so we can discuss their needs and how we can support them with the breadth of our capabilities.
5PL – Fifth Party Logistics
Fifth-party logistics providers are a relatively new model combining 3 and 4PL. 5PL providers work with businesses in house departments in which they are responsible for developing, implementing, and overseeing logistic solutions, as well as managing 3PLs and 4PLs for the client
5PL providers are highly favoured by those in the e-commerce sector as they create and organise everything effectively to ensure customer satisfaction.
Storm procurements are proven to deliver our clients outstanding services. Working with us as you 4PL, we deliver exceptional support and help to optimise your supply chain.
Get in touch to see how we can elevate your business;