We have previously discussed the methods being undertaken to increase sustainability within the industry. How we can work together and make use of resources we already have, before creating new products. Tyres and rubber tracks are widely used in the mining industry, so we know there will be a lot of wastage. This week we explore the efforts undertaken to becoming more sustainable by recycling and repurposing tyres and rubber components.
The mining industry is one of the biggest users, globally for off the road tyres (OTR). As more companies shift their focus on undertaking better waste management practices, more research is being conducted to learn about the methods for tyre recycling. Tyre recycling can be seen as an unnecessary additional cost for businesses that they would rather avoid, when they are already spread thin with high energy and labour costs. However, by doing so they are demonstrating to other businesses that they are considering their emissions and the future of their production. Working to improve the social and environmental benefits. This will not only enhance their reputation but emphasises the importance of meeting goals for carbon neutrality and zero waste.
TyreStewardship, Australia (TSA) published a report in June 2023, called the 'Tipping the balance' that provides TSA's position on improving OTR rubber product recovery in Australia. The report identifies challenges and opportunities in increasing the recovery, the benefits of doing so, as they strive for a 'circular economy'. As well as their approach to expanding the scheme, responsibilities of stakeholders and the roadmap to achieving these goals.
Across Australia 130,000 tonnes of OTR tyres reach their end of life annually, if you consider a further 115,000 tonnes of rubber tracks and conveyors that's 245,000 tonnes per year of OTR rubber products that end up in landfill. 79% of OTR tyres are being used in the mining industry, followed second by agriculture, 11%. With figures like this it is clear to see why there is a need for recovery to repurpose these useful materials for a second life. Unfortunately, fewer than 10% of OTR tyres are recovered, with this falling to <2% of mining and agricultural tyres. These figures are only for Australia, so we know globally this would be a much larger figure.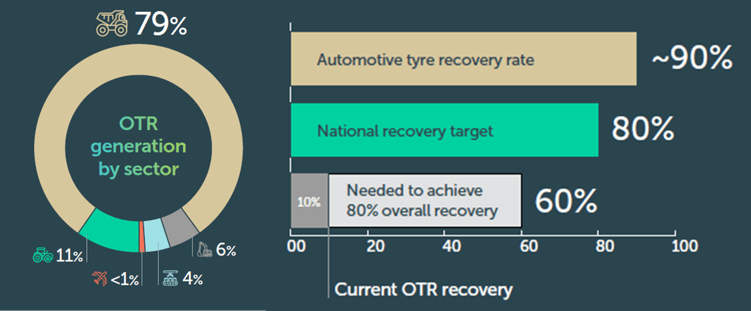 There are several recovery options for OTR in Australia that currently have not been implemented. Tyres and conveyors can be refurbished or re-treaded to extend their life, which should always be considered before recycling, to prevent waste. There are several reprocessing options, including shredding, granulation and grinding, to produce new tyres, artificial grass, bunker fuel, paints, adhesives etc. By repurposing these materials, it is saving tonnes of rubber being sent to landfill. Recovery of these materials has been proven to increase when incentives have been put in place. This benefits the environment and allows businesses to achieve targets and earn incentives.
A company called Salvadori in Italy collects OTR tyres and recycles them to prevent tyres being sent to landfill. There are over 6,000 open pit mines worldwide, with a whopping figure of over a million non-recycled tyres that are sent to landfill. 'Salvadori's technologies allow these issues to be tackled at the mine site, reducing the number of tyres that are transported to landfill, improving environmental issues. '
Salvadori's Tyre Recycling Process
Step 1- Downsizing, powerful machinery can handle tyres of up to 4m of diameter and 5,000kg of weight on site. Reduce the size of the tyre into smaller pieces.
Step 2- Shredding plants process the tyre into separate materials, that can be used to further produce a wide range of recycled products.
Step 3- Technical product production, providing a new lease of life for these materials, crumb rubber and dust can be used to produce various products including sports surface playground flooring.
In the UK since 2002 whole tyres have been banned from landfill sites, end of life tyres have been banned since 2006 because of the EU Landfill Directive. As a result, in the UK nearly 100% of all waste tyres are recovered and recycled. These are impressive figures and greatly benefit the environment, as it prevents tyres from being disposed. Tyres must be dealt with responsibly, as they are extremely flammable. If they catch alight, they release harmful toxins into the atmosphere which has proven to contaminate the air and the ground.
No matter what country the tyres originate from, the risk of not responsibly repurposing the tyres could have serious consequences, that negatively impact the environment globally. With multiple options available for repurposing and extending life of tyres, it only seems right for businesses to be responsible for their tyre wastage and reduce it entirely where possible.
We hope you enjoyed reading this week's blog and perhaps even learnt something new. Why not share the post with other's who may also find it interesting. Leave us a comment in the section below to let us know your thoughts and feel free to share any topics you'd be interested in reading about.